Archives
---
February 2017
---
February 2017
---
February 2017
---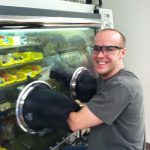 February 2017
Mike is a fifth year student in the Brown lab by way of Lubbock, Texas. He earned his B.S. in chemistry at Texas Tech University in 2012 and moved to Bloomington shortly thereafter to start his graduate research. His current research focuses on the development of novel catalytic enantioselective [2+2] cycloaddition methodology to arrive functionalized cyclobutane compounds. In his free time, Mike enjoys spending time with his wife Laura and dog Posey.
"'You miss 100% of the shots you don't take' –Wayne Gretzky" – Michael Scott
---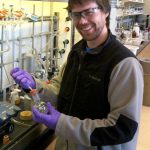 February 2017
Kevin hails from Issaquah, Washington. He graduated with a B.S. in chemistry from Western Washington University where he worked under the supervision of James Vyvyan investigating gold-catalyzed aromatic Claisen rearrangements. Kevin has spent the majority of his time at IU studying cross-coupling via Cu/Pd synergistic catalysis. In his free time, Kevin enjoys photography and being outside (swimming, hiking, skiing, etc.).
"You can read, right?" – Kevin Brown (to Mike Conner)
---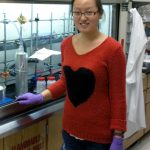 February 2017
Yao was born in Lanzhou, China and her hometown is very famous for beef noodles. In 2008, she attended Tianjin Normal University as an undergraduate student and did undergraduate research with Professor Qingxiang Liu. In 2012, she flew across the Pacific Ocean and joined Professor Kevin Brown's research group. She is now working on enantioselective/chirality transfer [2+2] cycloadditions with allenes. In her free time, Yao enjoys running, watching movies, and playing guitar.
"Be yourself." – Unknown
---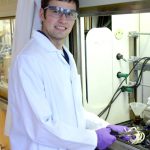 February 2017
Sean is from Vestal, NY. He received his B.S. in chemistry from Binghamton University in 2015 doing research under Professor Vetticatt. In the Brown lab, Sean researches the transition-metal catalyzed arylboration of alkenes. Outside of lab, Sean enjoys volleyball, video games, and hiking.
"When life gives you melons, you might be dyslexic." – Jay McLean
---
---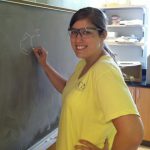 February 2017
Katie is from Augusta, Ga. She attended college at Mercer University and earned her B.S. in May of 2013. While at Mercer, Katie did undergraduate research in the lab of Dr. Adam Kiefer.  In the Brown lab at IU, Katie has mostly worked in the area of stereospecific cross coupling via copper/palladium synergistic catalysis. She is currently President of the Chemistry Graduate Representative Committee (ChemGRC). Her hobbies include reading, fishing, and daydreaming of sitting on a beach somewhere.
"I sneezed on the beat and the beat got sicker." – Beyoncé
---
March 2020