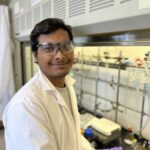 December 2022
I am Suman, from Ghatal, West Bengal in India. I completed my BS in Chemistry from Midnapore College (Autonomous). I received my MS from Indian Institute of Technology, Guwahati. During my masters, I worked on Catalytic Asymmetric synthesis, under the supervision of Prof. Subhas C. Pan.
In the Brown lab, I am working on the transition metal catalyzed difunctionalization of alkenes.
In my free time I like to listen music and I love cooking. My favorite hobby is to travel to new places.
"My special fascination has been to understand better the world of chemistry and its complexities" – E. J. Core