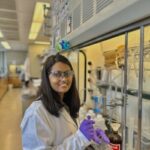 December 2022
Neetu is from Haryana, India. She obtained her MS from National Institute of Tiruchirappalli. There, she conducted research under the guidance of Dr. R Karvembu Karvembu and Dr. Seenuvasan Vedachalamof. Her Masters research was focused on the synthesis of thioethers via a cross-coupling.
Neetu joined the Brown lab in 2022. Neetu is now exploring the area of photochemistry and looking to harness energy transfer for the construction of new rigid scaffolds.
In her free time, she loves to cook and watch F.R.I.E.N.D.S.
"See the good in people and help them." – Mahatma Gandhi
"People are capable, at any time in their lives, of doing what they dream of." -Paulo Coelho